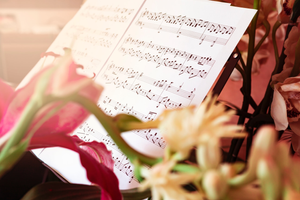 Annual Composition Competition: Call for Scores
When was the last time you attended a musical performance, classical or otherwise, that featured works by female composers? 
Women's Orchestra of Arizona not only regularly performs works by noted and under-the-radar female composers, it also encourages and recognizes new compositions by women through its annual Composition Competition. 
In the 2023-2024 season, the orchestra is excited to feature the winning entry in the 2022-2023 WOA Composition Competition — "Resilience," composed by Autumn Maria Reed, who is based in Wisconsin.
 The 2022-2023 competition will be accepting scores until March 15, 2023; the winner will be announced before May 1 and the work will be performed by the Women's Orchestra of Arizona in the 2023-2024 concert season. Applicants should identify themselves as females with a minimum age of 16 years old. Works must be scored for a maximum instrumentation of full strings and woodwinds.
The Women's Orchestra of Arizona Composition Competition provides women composers the opportunity to have their original orchestral work recognized and given a premiere performance by the orchestra. 
In making the winning selection, the competition committee looks for creative imagination, stylistic originality, and presence of a personal voice.
Past competition winners include Florence Anna Maunders (the United Kingdom), Roxanne Sacketti (Prescott) and Diane Sullivan (Phoenix), former WOA concertmaster.